​The TXM Recruit team reflects on 2021; rewarding four team members with XTRA Awards, congratulating the latest promotions, and turns their attention to the year ahead.
Another New Year has arrived and with it the lessons of last year and the goals and ambitions for the next 12 months. 2021 brought its own challenges, many of which were carried over from 2020, but despite this the TXM Recruit team found ways to overcome them and adapt to the rapidly changing world we live in. That's not to say it was all plain sailing (it certainly wasn't!) but as always, we took strides forward with a positive mindset and precision focus meaning we head into 2022 stronger than ever.
What does it take to be an 'Xtra Miler'?
To acknowledge the efforts of those who demonstrated and embodied one of the company's 'XTRA' values last year, TXM Recruit's leadership team award each of the four XTRA Awards: Xceptional, Teamwork, Responsible, Above and Beyond.
Adam Knight, TXM Recruit Director, commended the winners: "2021 saw many changes at TXM Recruit, as well as the continued issues surrounding COVID and the impact caused by IR35, the team have always remained positive and have worked very hard for us to start making some great strides forward meaning we start 2022 in a good position. We felt it was very important we recognised the achievements of some of the team, as always it was very difficult to only select one winner for each category, but we felt the winners were very deserving, after having great years from a billing perspective but also living the company values at the same time, which is equally as important to us." ​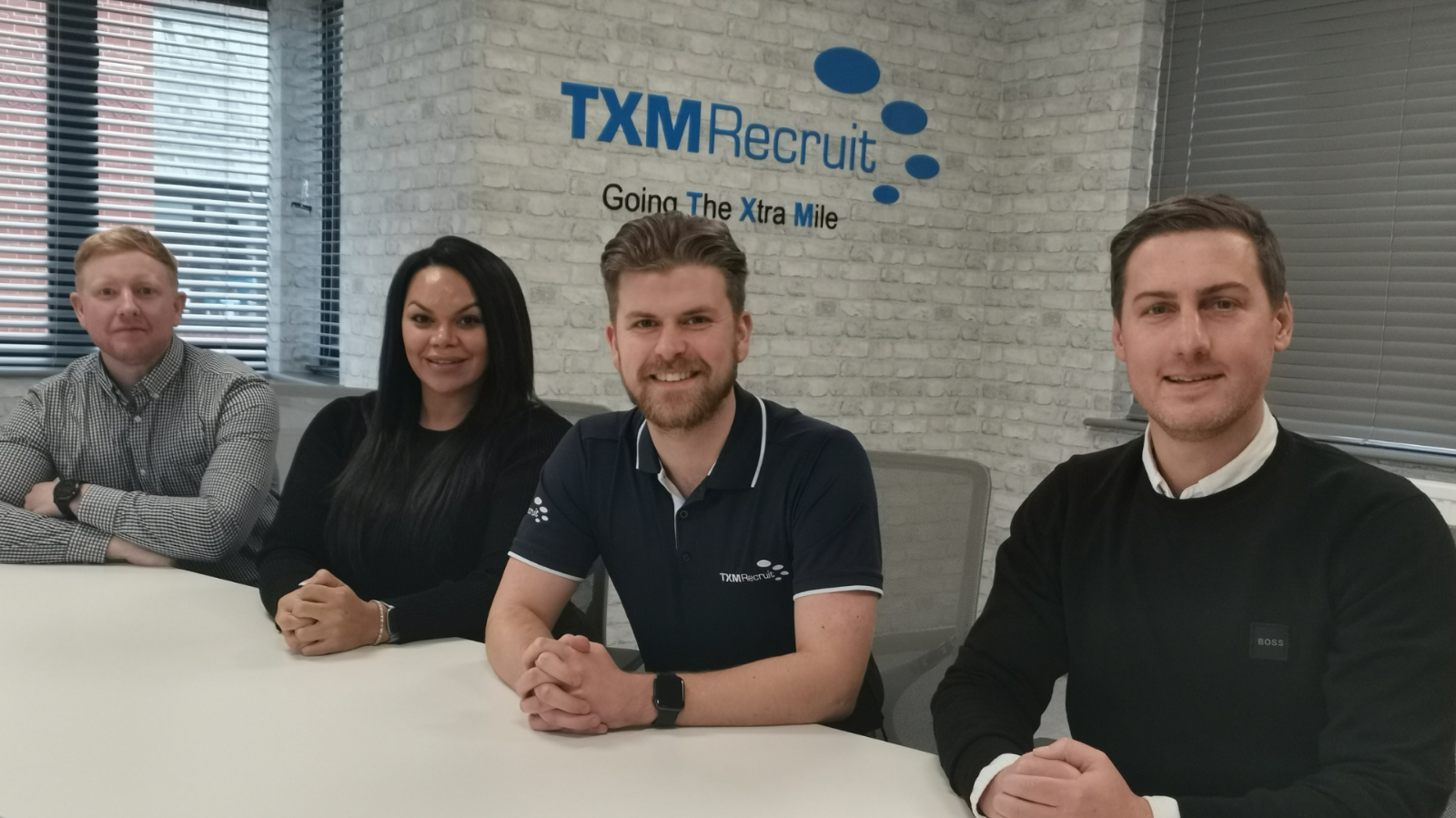 Here's what our winners had to say:
Xceptional - Ben Grant, Team Leader – FM:
"2021 was a challenging year for many reasons including the pandemic and the delayed IR35 ruling. However, it soon became apparent we were able to navigate this as a team and with a number of new clients and new sectors to work in it was a huge success. Starting and ending 2021 with a promotion highlighted the successful year it turned out to be. I am proud to have won the Xceptional award and I look forward to an exciting 2022 which no doubt will be our most successful yet."
Teamwork - Scott Eveson, Senior Recruitment Consultant – FM (Construction):
"My fourth year with TXM and it has been another great effort from all involved to hit the number that we did and that's working as a collective team overall.
The second time I've won this award and it feels just as sweet as the first time when I won it back in 2017. Thank you to the management for the award and also thank you to my TXM colleagues in particular Ben, Chris, Ollie, Chester and Hayley my FM Crew who are a great team to work with."
Responsible - Feli Shallow, Senior Account Delivery Manager:
"4 and a half years at TXM Recruit completed, 4 awards won!
However, this one feels the most special because it's the award for the 'most responsible person' for 2021, despite being on maternity leave for 5 months of it!
Even though my directors kept reiterating "relax, all is under control", I still found it so difficult to switch off from work during that time. I decided to cut my maternity short after the 5 months, return to work and throw myself at three new challenges. 2021 was my most challenging yet most rewarding year to say the least, however here I am standing proud with an award to show for it, ready to achieve even more in 2022.
Thank you to my directors for the award and TXM Recruit colleagues for all their hard work and making it an enjoyable place to work!"
Above and beyond - James Powell, Team Leader – FMCG:
"2021 was a busy year for the FMCG department and myself; with our clients' staffing requirements accelerating even more, post lockdowns. With that in mind, I was pleased to receive the 'above and beyond' award and 'top permanent biller'- as a reflection of the efforts and level of service that I aim to provide to our clients and candidates; contributing to their plans. It was an enjoyable year and I am looking forward to 2022."

End of year performance awards:
As well as our award winners we also recognise and praise the following significant achievements:
Top Perm Biller - James Powell
Top Contract Biller - Tim Simpson
Top Sales Team - FM Team
Team Top Performing Team - Rail Team

Promotions:
As a result of their hard work and dedication throughout 2021 James Powell and Ben Grant have both been promoted to Team Leader for their respective divisions whilst Jacob Seward has been promoted to Rail Divisional Manager – congratulations to all three!

Here are the Facilities Management and Rail Team enjoying their celebratory night out at Flight Club.


If you're interested in learning more about what it's like to work with TXM Recruit's award-winning team, visit our careers page, or contact our Talent Acquisition Manager Sam Green today!