TXM Recruit Candidate, TXM News
​From what started as cleaning trains to now recently qualifying as mechanical engineers, Jasmine and Megan Waller share their inspirational story with TXM on how they got into the rail industry as two young female engineers, now working as contractors for Hitachi Rail.
Where it all began…
Before the global pandemic hit the UK, Megan (now aged 21) was a carer for the elderly and Jasmine (now aged 23), was a dental nurse. It wasn't until lockdown that both Megan and Jasmine decided to change their career paths, seeking advice from their father Anthony Waller (also known as Tony) who is a Train Maintenance Production Manager currently contracted by TXM Group to Hitachi Rail, having worked within the railway industry for 15+ years.
Jasmine explains: "I was a dental nurse for five years and when Covid hit us I was placed within the emergency hub. At the time I was the only person in my household going out to work and it was a massive risk at first working in close contact with people which didn't sit right with me. The money wasn't great and I didn't want to be a dental nurse anymore so that was the extra push I needed to leave and do something else."
Megan shares: "I was previously working as a carer and cleaner down South and it wasn't until lockdown that my Dad requested I moved up to Yorkshire to be closer with the family, especially as I have asthma and was at high risk working where I was at the time. At this point I had no idea what I wanted to do let alone being an engineer."
Jasmine adds: "I knew Dad was happy here [working at Hitachi Rail] so I asked if there were any jobs going and he mentioned there was a train cleaning job that had come up."
At the time Tony and his team within Hitachi Rail were delivering the last of the East Coast trains to their customers and required the trains to be cleaned to a high standard, especially during the peak of the pandemic. Both Jasmine and Megan were brought in to do the train cleaning role working primarily within the Doncaster depot. It wasn't until then that they both realised this was the start of their new career journey within engineering.
"We got on really well with the engineers onsite and once we had finished cleaning the trains we would often go sit with the guys and watch what they were doing and get involved," Jasmine explains. "From this point we both decided we wanted to do this role ourselves and take it further."
Whilst working as train cleaners, Megan and Jasmine decided to take on their Level 3 NVQ Mechanical Manufacturing Engineering qualification in January 2021, all self-funded, studying during their lunch breaks and into most evenings. This involved completing a series of assignments and practical assessments which the team supported throughout the 10 months of studying. Both Megan and Jasmine successfully completed their studies together and are now fully qualified Modification Technician contractors.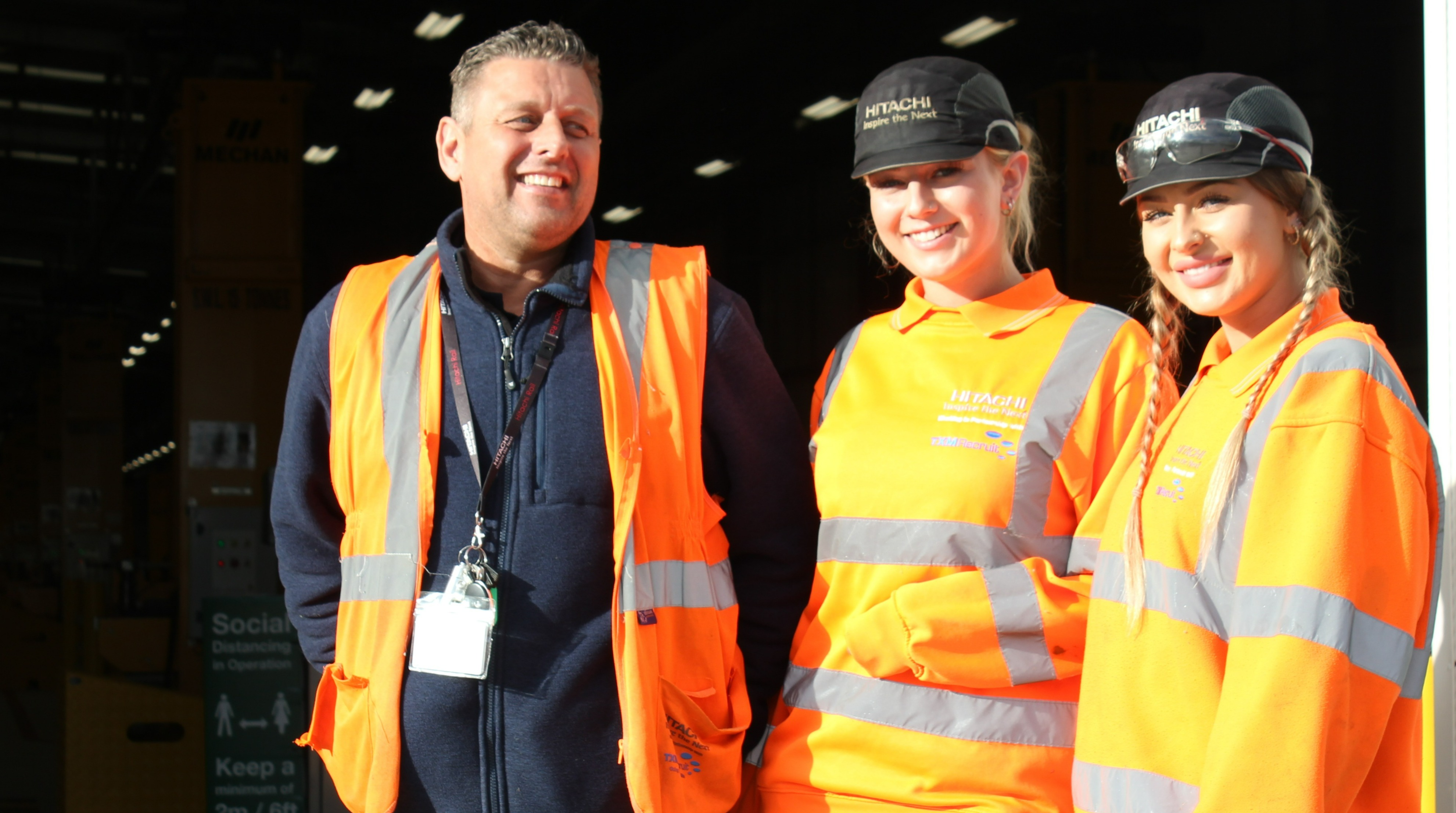 ​
A typical day in the role of a Modification Technician
As part of their role, Megan and Jasmine are both responsible for carrying out train modifications, working onsite at Hitachi's Doncaster, Craigentinny, and Bounds Green depots, on a 3-week rota.
"Our job includes working on things like the GU modifications, changing and fitting reactors – basically we change and fit all the things that need replacing on the trains if they've been damaged or if we've figured out a better way for them to run for longer. I like that its different every day, going to new places and working in other depots and learning how they work," says Megan.
Jasmine continues: "We report to the team leader who would hand out VMI (Vehicle Manual Instructions) and then go from there – dependant on the task we would get our tools ready. A VMI basically tells you what tools you need to use and instructions on how to carry out the job with drawings and diagrams to assist.
There is plenty of variety within the job as every task is different. When we do it enough times we get used to the job and then, when we move onto another and come back to the previous job, it's a lot easier to pick it back up again. For the GU modifications a lot of trains needed jumper cables fitting so for a while we were doing the same job for a few weeks whereas some weeks can vary."
Both Jasmine and Megan are provided with a lot of training as part of their role, having recently completed their forklift training. Tony adds: "The girls will be doing their VBT exam training next, which is a vehicle knowledge week-long course followed by a safety critical training course which is on-the-job learning all the exam tasks. At the end of that the girls will be able to service the Hitachi trains."
A bright future ahead for Jasmine and Megan
Having fully integrated with the different teams and depots, Jasmine and Megan both thoroughly enjoy their roles within Hitachi Rail and see themselves staying within the rail industry for the foreseeable future.
Tony adds: "I've invested 15 years working within the railway industry and although I may have opened the door for Meg and Jas, they've actually done all the hard work themselves. They both self-funded their NVQ qualification each (which isn't cheap!) on a cleaner's wage. This shows their dedication and personal investment into this new career path as female engineers."
Being a young female engineer within the railway
TXM Group Director Warren Barry comments: "There's so many young women who don't know about the rail industry and haven't received the same exposure or support like Megan and Jasmine have received from their father Tony. At TXM it is part of our job to change this and introduce as many young women as possible into the industry so that they can love the engineering job like these two do."
What do you love most about your job?
Megan: "I like being hands on with the job. There is plenty of variety within the job as every task is different. Some weeks we do 60 hours including overtime and it can be tiring but we like it."
And what's the least enjoyable part?
Jasmine: "Getting up early in the morning [laughs]! We get up at 4.50am most mornings to commute to work. Finishing time can vary dependant on what job needs completing on the day."
What do your peers think about your career choice?
Jasmine: "My friends think what I do is amazing and big me up all the time. They're all really proud of me and have been very supportive throughout."
Megan: "We've received a lot of support from the team and team leaders."
Women make up just 14.5% of all engineers – in your opinion why do you think this percentage is low?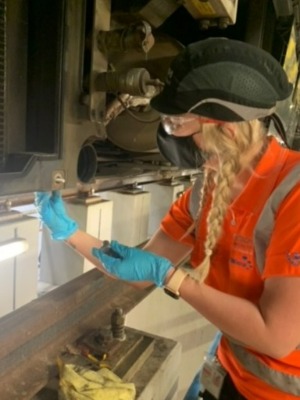 Jasmine: "I think it can be nerve-racking to come into such a male based environment. If I didn't come in as a train cleaner and not knowing my dad works here, there's no way I'd have done it off my own back."
Megan: "With Dad being here, people knew him and knew us so that made it easier to settle into the job. Whereas, if we came here and no one knew who we were, it would be daunting. It is a male orientated environment and there's very few female engineers here. The job can be challenging at times, but the guys are always willing to help – especially with heavy lifting!"
Tony: "In my opinion, one of the struggles for the women in engineering is that I'm not sure the rail industry itself is fully set up to cater for women such as supply chain, equipment, PPE – it's set up for men as it's quite easy to get XXXL but not XXS!
Megan can't do the train roof training as she's too light for the safety device so if she fell off, the harness wouldn't stop her from falling as you need to weight more than 59kg. Safety harnesses are not always catered to support the weight of a small woman like Megan."
For the younger women who are looking to go into engineering, what career advice would you give?
Megan: "Just do it! Women who are considering engineering as a career need to know that there are women who are here – they won't be the only ones and it isn't as scary as you think. If I knew what I know now about the job, I would have probably chosen an apprenticeship or college course after finishing school."
Jasmine: "I wanted to be a teacher or a vet when I was younger but I couldn't think of anything worse now! I'd say if engineering is what they wanted to do and they don't have someone within the industry to help open the door for them, I'd suggest they reach out to women engineers on LinkedIn. The thought of it is a lot different to the actual reality of it, so if women were thinking about doing it but are too scared or don't know what to expect, speaking to someone else that's done it already will probably make them feel a lot better about the situation and probably push them to do it."
What's it like to be a female engineer in a predominantly male industry?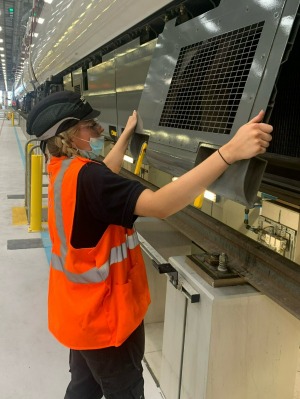 Jasmine: "Apart from the heavy lifting, we're more than capable of doing any job the guys can do – some of the jobs we can do even better because some jobs need a little arm in a little hole!"
Megan: "I was in the nose cone of the train the other week fitting the window wiper so there is an advantage to being small!"
Tony: "There is an advantage of having women working within the rail industry because they're going to be better at some jobs than men are, and some men are going to be better at the heavy lifting than women are and that's the reality. I don't think the industry takes advantage of that.
It's also fortunate they're both young, sort of new out of education, the learning process is a lot easier for them. I know some of the things on the computers they've shown the lads how to do because us older boys aren't as tech savvy, whereas the girls are much more up to speed. And with the way the trains are going, that is going to be where they're at an advantage with the technical stuff."
What is your proudest achievement so far?
Jasmin and Megan: [laughs] "Probably not crashing the forklift when we did our training! When we finally completed our NVQ and following it all through – was a proud achievement."
Tony: "I've got two different daughters with completely different personalities and mentalities and yet they've both found something they're both good at and school never really gave them anything to point them in that direction. The Megan who used to stand at her car with the bonnet open waiting for someone to rescue her now knows how to fix it herself!"
Have you got a career goal you're working towards?
Jasmine: "I'd like to carry on with the job and know it all properly before, then maybe look at a team leader role in the future."
Megan: "I definitely would like to move up but where I don't know the answer to that just yet!"
​
If you'd like to know more about how TXM can support your career journey working within the rail industry, please contact us today.
​