As we embark on a brand-new year, TXM Recruit reflects on 2020, recognising the team and celebrating four Xtra Milers who received an XTRA award.
Wow, what a year 2020 was! Whilst we watched the Coronavirus evolve into a global pandemic, experiencing two national lockdowns (…and now a third!), the TXM team quickly learnt to adapt and adjust to the new 'normal'. As we've all experienced changes in one form or another over the last 12 months, our team went from strength to strength, overcoming many challenges, finding new and safer ways to recruit, embracing new technology, whilst continuing to provide guidance and recruitment support for both clients and candidates throughout. From carrying out numerous video calls to following social distancing rules and staying motivated while working from home, 2020 was a challenging year for all, but we got through it… together!
At the end of each calendar year, TXM Recruit's leadership team recognise and reward four Xtra Milers who demonstrate and reflect one of the company's 'XTRA' values; Xceptional, Teamwork, Responsible, Above and Beyond.
James Wall, TXM Recruit's Managing Director comments: "Our biggest asset is our people. The dedication, hard work and commitment we witnessed over the last year has been remarkable. The XTRA awards gives us the opportunity to reward four Xtra Milers who have shone throughout the year, living, and breathing our core values that makes our working culture so unique. It was a tough decision to just name four winners as everyone has worked incredibly hard during a certainly challenging year. We listened to our colleagues and the final vote is based upon feedback and nominations confidentially provided by the team on who they think deserves the recognition. I'm pleased to congratulate Adam Marriott, Christian Savage, Josie Malone and Rachel Carter who are our 2020 XTRA award winners."
Let's hear from our winners…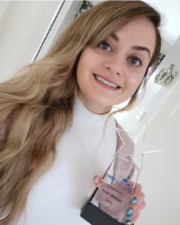 Josie Malone joined TXM Recruit in January 2020 as the Marketing Manager and received the Xceptional award. Josie comments: "For many, 2020 was understandably a bad year, but for me, it was a great year! It was about eight weeks into the new job when the global pandemic dramatically hit us, which being a 'newbie' was a little nerve-racking! The team was (and still are!) incredibly supportive and it was truly inspiring to see how the team handled all the challenges we faced. I am incredibly lucky to work with an amazing and collaborative team who have made me feel welcome from day one and it was an absolute honour (and shock!) to receive the Xceptional award. Thanks TXM!"
​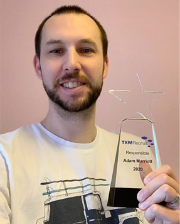 Adam Marriott is a Recruitment Consultant specialising within traction and rolling stock within our Rail division. Receiving the Responsible award, Adam comments: "With 2020 being a particularly hard year to win an award such as this which was voted for by the management means a lot. TXM is always showing their appreciation for the work carried out throughout the year and have done a fantastic job of supporting me throughout the year. I can only hope to emulate this moving into 2021 but anyone of my colleagues deserved this award and I feel that as a company we have the best core possible."
​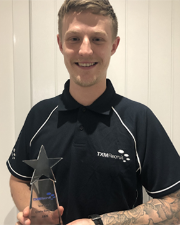 Christian Savage also joined TXM Recruit in January 2020, as a Trainee Recruitment Consultant based in our Derby Office and has since been promoted as a qualified Recruitment Consultant, working with our Facilities Management division. Receiving the Teamwork award, Christian comments: "Thanks to everyone at TXM Recruit for an amazing first year! I was buzzing to win the Teamwork award for 2020. What a challenging year we have all had, but on a personal note I have had the most amazing end to it and can't wait to see what 2021 brings!"
​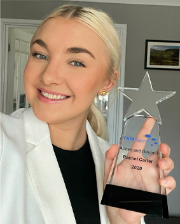 Rachel Carter received the Above and Beyond award. Rachel is a specialist Facilities Management Recruitment Consultant also based at our Derby office. Rachel joined the business towards the end of 2019 as a Trainee Recruitment Consultant and was also promoted as a fully trained Recruitment Consultant earlier in 2020. Rachel comments: "I'm over the moon to take home the 'Above and Beyond' award for 2020! A huge thank you to my colleagues for being so supportive and amazing all year and to all the Managers for choosing me as the winner. This year has been a year like no other but it's great to celebrate success and I'm looking forward to a positive 2021."
​
Promotions...
Celebrating more promotions within the team, Adam Knight and Matthew Crowe have recently been promoted to Director, Scott Eveson and Ben Grant are now Senior Recruitment Consultants, and Ben Wright is a fully qualified Recruitment Consultant – well done guys!
If you'd like to know more about what it's like to work with an award-winning team at TXM Recruit, take a look at our careers page, or alternatively, contact our Internal Recruitment Manager Leah Cook today!